Is this how I save?
| | |
| --- | --- |
| Composer: | Jason &nbsp(click to list other tunes) |
| Submitted by: | Jason |
| Posted: | 9/13/06; 7:52:30 PM |
| Msg#: | 4924 (top msg in thread) |
| Prev/Next: | 4923/4925 |
| Reads: | 2396 |
Download track using:
I certainly hope this is how I save a project.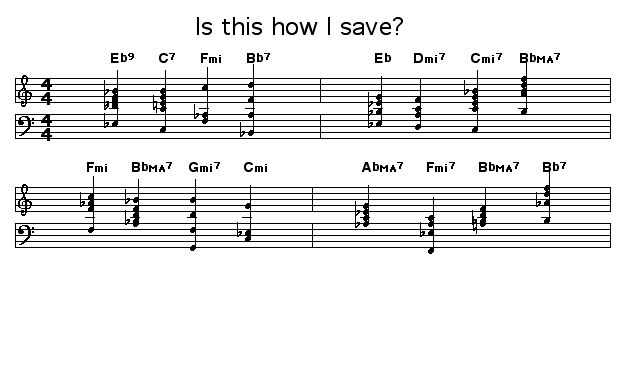 Launch the SongTrellis Excerpt Service for this track (Follow the link)

Customize this piece: Prepare scores for transposing instruments. Transpose the score to a new key. Change tempo. Clip an excerpt for your own practice, study, or composition work. Loop that in your browser or download it if you wish.

Video Demo: Excerpt Service Basics Video Demo: Saving Excerpts
blog comments powered by
---
Please join our community at SongTrellis. Our contributors welcome your comments, suggestions and requests. As soon as you join the site (or login if you are a member) a response form will appear here.
To include this sound in a page, type "Is this how I save? 3", including the quotes.
Check home page to learn about newly submitted tunes, chord progressions, and rhythms.